Introduction
Email is still the foundation of efficient communication for organisations and individuals in the digital era. There are strong reasons to consider using a third-party email hosting service, even though web hosting companies frequently include webmail capabilities as part of their packages. In addition to describing Zonal365, a feature-rich solution that revolutionises email hosting, this post will examine the significance of employing a third-party email hosting provider. With its broad selection of cutting-edge services, Zonal365 is well-positioned to lead in the email hosting market.
Why Choose Third-Party Email Hosting?
Many advantages come with using a third-party email hosting service. With improved functionality and cutting-edge features, you may have a superior email experience suited to your requirements. Your email infrastructure is in good hands thanks to the committed support from email hosting experts. Leveraging independent email infrastructure provides dependability, security, and top performance. A significant benefit is scalability, which lets you effortlessly accommodate expanding email needs. Operational efficiency is increased when email administration and web hosting are kept separate. Sensitive information is safeguarded by advanced security procedures that guard against spam, phishing, and data breaches. The performance of websites is maximised by preserving valuable disc space on web hosting servers.
Enhanced Functionality:
Third-party email hosting services like Zonal365 offers many advanced features beyond basic email functionality. These include email scheduling, spam prevention, customisable email templates, and attachment handling. With Zonal365, you can access a comprehensive suite of tools designed to optimise your email communication and workflow.
Specialised Support:
Third-party email hosting firms are experts in email administration, unlike web hosting companies, who primarily focus on hosting websites. With this focus, you can expect committed and quick support for all your email-related requirements. As Zonal365's support staff is knowledgeable about email infrastructure and can offer immediate assistance, email operations will run without hiccups.
Independent Email Infrastructure:
A third-party email hosting service frees you from relying on your web hosting provider's infrastructure. This independence improves reliability, better deliverability rates, and enhanced security measures. Zonal365 boasts a robust and reliable email infrastructure, ensuring your emails reach their intended recipients seamlessly.
Scalability and Flexibility:
Third-party email hosting services offer flexible plans that can quickly scale with your evolving needs. Whether you're a small business experiencing growth or an individual with changing email requirements, Zonal365 provides the flexibility to upgrade or downgrade your email hosting plan as necessary. This scalability ensures that you only pay for the resources you need.
Streamlined Email Management:
Separating your email hosting from web hosting simplifies email management. By utilising Zonal365's dedicated email hosting service, you can focus on managing your emails without the complexities of web hosting-related tasks. This streamlined approach optimises your email workflow, boosting productivity and efficiency.
Advanced Security Measures:
Third-party email hosting services like Zonal365 implement advanced security measures explicitly tailored to email communication. These measures include robust spam filtering, encryption protocols, and proactive threat detection. With Zonal365, you can have peace of mind knowing that your email communication remains secure and confidential.
Dedicated Email Reputation:
A specialised third-party email hosting solution can build and sustain a reliable email reputation. High deliverability rates are supported by Zonal365's established email infrastructure, which also avoids spam filters and makes sure that your emails get to recipients' inboxes. This improves the credibility and efficacy of your email correspondence.
Preserve Web Hosting Disk Space: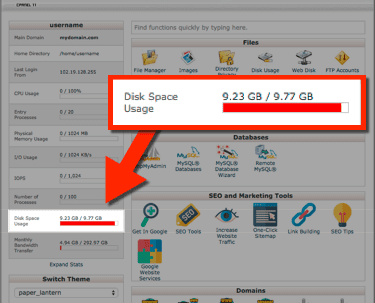 Lastly, a third-party email hosting service like Zonal365 can preserve valuable disk space on your web hosting server. Unlike webmail services provided by web hosting providers, which consume storage resources on the same server that hosts your website, Zonal365 separates email storage from web hosting. This means your email data and attachments are stored on dedicated servers optimised for email storage, leaving your web hosting disk space free to store website files and databases. Preserving web hosting disk space ensures optimal website performance, faster loading times, and efficient resource allocation.
With Zonal365, you can enjoy the benefits of a dedicated email hosting service without compromising the available disk space on your web hosting server. This separation of resources enhances your website's overall stability and performance, enabling it to handle increased traffic and deliver a seamless user experience.
Make the most of your web hosting resources by offloading email storage to a reliable third-party email hosting service like Zonal365. With different storage solutions for email and website files, you can effectively manage and allocate disk space, ensuring optimal email communication and website operations performance.
Introducing Zonal365: A Feature-Rich Email Hosting Solution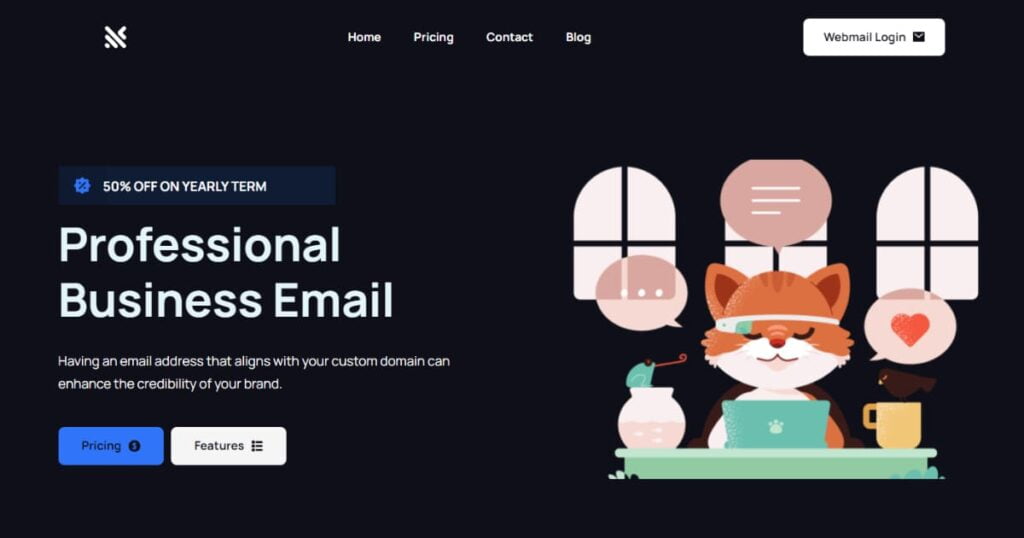 Zonal365 is a cutting-edge third-party email hosting service encompassing all the essential features for seamless and efficient email communication. Here are some key features that set Zonal365 apart:
No Spam Box Landing
Zonal365 ensures that your important emails never end up in recipients' spam boxes. With robust spam filtering mechanisms in place, Zonal365 prioritises the delivery of your emails, maintaining high deliverability rates and ensuring that your messages reach the intended recipients.
Signature Templates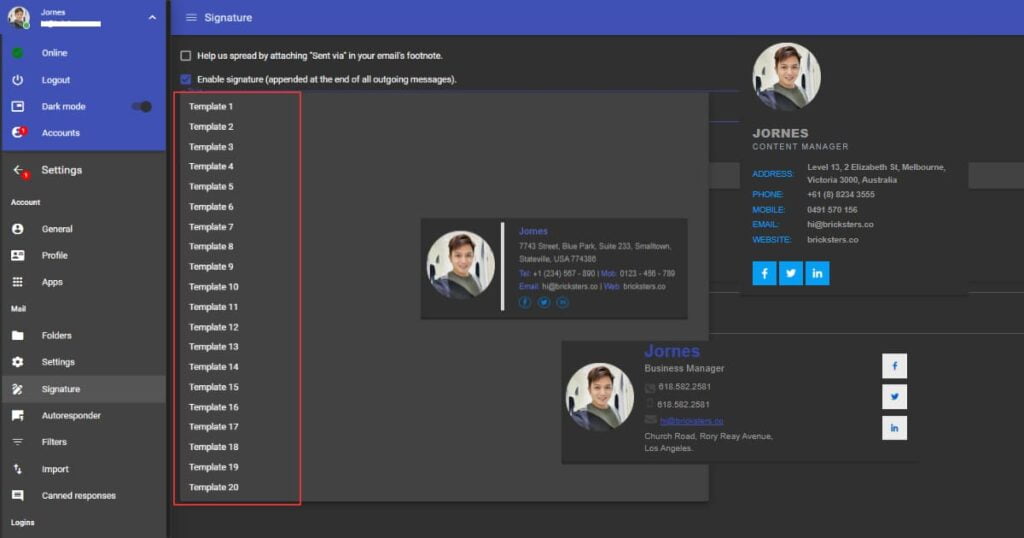 With the assortment of visually beautiful signature templates from Zonal365, you can make your emails look more professional. Pick from 20 pre-made templates, each carefully crafted to astound and leave a lasting impression on your receivers. Ensure your emails look professional by elevating your email communications with these eye-catching signature designs. Zonal365's signature templates will let you stand out from the crowd and make a statement while adding a touch of class to every communication you send.
Send Later
When it comes to email communication, timing is crucial. You may plan emails for future delivery with Zonal365's "Send Later" option, ensuring that your communications are sent at the ideal time, even if you are not actively available.
Accepts Large Attachments
Sharing large files is effortless with Zonal365. Say goodbye to file size limitations commonly imposed by webmail services. With Zonal365, you can easily send and receive large attachments, such as high-resolution images, essential documents, and multimedia files.
Email Follow-Up
Never miss a critical email response again. Zonal365's email follow-up feature enables you to set reminders for emails that require a response. Stay on top of your communications and ensure timely replies.
Email Health Indicator
Gaining insights into the health of your email account is crucial for effective email management. Zonal365's email health indicator provides valuable analytics and reports, allowing you to monitor your email account's status, identify improvement areas, and ensure optimal performance.
Canned Responses
Save time and streamline your email communication with Zonal365's canned responses feature. Create pre-defined email templates for frequently used responses, enabling you to respond swiftly and efficiently to common inquiries or requests.
Preview Attachments Without Downloading
Effortlessly preview attachments without the need to download them. With Zonal365, you can quickly assess the content of attachments, saving time and enhancing security by avoiding unnecessary downloads.
Powerful Email Editor
Unleash your creativity and craft visually captivating emails using Zonal365's robust email composer. With its extensive range of formatting options, design tools, and customisation capabilities, you have the freedom to create emails that truly express your unique style.
What sets Zonal365's email composer apart is its innovative side-by-side feature, allowing you to view the email received by the recipient as you compose your reply. This lets you maintain context and ensure your response aligns perfectly with the recipient's message. Experience the power of Zonal365's email editor and elevate your email communications to new heights of engagement and impact.
Affordable as it's Not charged as per User
Zonal365 stands out with its cost-effective pricing structure. Unlike many other email hosting services that charge per user, Zonal365 offers affordable plans that provide value for Solo, Businesses and Agencies. This pricing approach makes Zonal365 an attractive and budget-friendly choice for all your email hosting needs.
Future Implementations:
Zonal365 has grand intentions to improve the range of services it offers. Cloud Drive Storage, which works similarly to Google Drive and offers seamless interaction between email and file storage, is in development. Additionally, Zonal365 is creating helpdesk and team chat features to enable companies to integrate their internal collaboration and customer support workflows into a single platform.
Lock-in Renewal
It's also crucial to emphasise the advantages of signing up for Zonal365 early. Your better deal depends on how soon you become a customer. There can be sporadic changes to pricing as Zonal365 improves its offerings. However, as an early adopter, your membership will be locked down at the starting price, ensuring that any future price hikes won't affect your plan. By doing this, you may use the extensive features of Zonal365's email hosting service while enjoying predictable costs and optimising long-term savings. Use this chance by signing up with Zonal365 immediately to lock in a great deal that future price adjustments won't impact.
Conclusion
Utilising a third-party service like Zonal365 in email hosting can unlock many advantages beyond primary webmail offerings. You can expect enhanced functionality, specialised support, independent infrastructure, scalability, simplified management, advanced security measures, dedicated email reputation, and future implementations. Zonal365, with its comprehensive feature set and competitive pricing, positions itself as a leading player in the email hosting industry. By choosing Zonal365, you can elevate your email communication to new heights.
Don't miss out on the advantages of third-party email hosting. Experience the power of Zonal365 today and take your email communication and productivity to new heights.